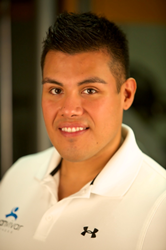 Everyone can benefit from postural assessments and corrective exercise techniques.

BELTON, Texas (PRWEB)
June 21, 2023
The BioMechanics Method, the highest-rated provider of corrective exercise education for fitness, exercise and health professionals, is pleased to name Ryan Vivar as the Corrective Exercise Specialist of the Year® for 2023. The Corrective Exercise Specialist of the Year award recognizes an individual who is certified in The BioMechanics Method, currently providing corrective exercise services to clients/patients, and has demonstrated exceptional application of their corrective exercise skills.
Ryan, based in Oklahoma City, is widely considered to be the most respected exercise professional for post-rehab individuals and those with medical conditions in the state of Oklahoma. A highly-skilled and motivated exercise professional with over 15 years and 40,000 hours of personal training experience, Ryan has a proven track record of providing safe, purposeful, and effective exercise programs for disease prevention, serious medical conditions, neuromuscular disorders, and chronic pain. His life-changing programs have helped transform individuals from all walks of life and his client base includes many of Oklahoma's top doctors, executives, entrepreneurs, and professionals.
In addition to earning his corrective exercise credential from The BioMechanics Method (TBMM-CES) in 2017, Ryan also holds numerous certifications in applied functional science, active aging, disease recovery, and medical exercise. As the owner of Ryan Vivar Fitness, a state-of-the-art personal training studio in downtown Oklahoma City, Ryan believes everyone can benefit from postural assessments and corrective exercise techniques.
"The BioMechanics Method has served as a foundation to many of my programs and I believe it should be the first step in the training process for most individuals," says Vivar. "It is truly one of the most useful programs an exercise professional could ever take."
As a pioneer in medical fitness training, Ryan has been bridging the gap between healthcare and fitness for more than 10 years. His corrective exercise training programs receive recognition from fitness authorities and the medical community, including physicians and physical therapists in the Oklahoma City metro area, specialists at the Cleveland Clinic, MD Anderson, and UCLA Health. Ryan's clients also praise his work and remarkable program outcomes.
"When I first got out of the rehabilitation hospital I used a walker to make it to my mailbox. Thanks to working with Ryan, I progressed to walking the two mile Alzheimer's walk, and no longer use a walker or cane. My strength has improved dramatically which has given me the confidence to return to work. The quality of life has returned, and I have God, the prayers of friends and family, and Ryan Vivar to thank for that," says one grateful individual.
Prior to receiving the Corrective Exercise Specialist of the Year® award from The BioMechanics Method, Ryan was a finalist for the 2021 Medical Fitness Professional of the Year, and nominated for Best Personal Trainer in Oklahoma City in 2022, IDEA Personal Trainer of the Year in 2020, and named as one of the Top 10 Personal Trainers in the World in 2014. He has also been a featured fitness professional and named an ACE All Star by The American Council on Exercise.
"Meeting Justin Price (The BioMechanics Method creator) in 2013 at an ACE Symposium and learning about corrective exercise was truly a career shifting experience and I am grateful for this award," Vivar says.
As the 2023 Corrective Exercise Specialist of the Year, Ryan will serve as a spokesperson on corrective exercise for The BioMechanics Method. He also receives an award trophy, a prize package from The BioMechanics Method, a membership with IDEA Health & Fitness Association and equipment from industry leaders BOSU® and TRX Training.
Finalists for the 2023 Corrective Exercise Specialist of the Year® award were Lynne Olsen, Yoga Medicine Therapeutic Specialist and owner of Rolling Brook Yoga in Catonsville, MD and Rhonda Collins, owner of Body Longevity in Brisbane, Australia. Rhonda is a two-time finalist for this award.
ABOUT THE BIOMECHANICS METHOD

The BioMechanics Method is the provider of the world's highest-rated corrective exercise specialist credential. The BioMechanics Method Corrective Exercise Specialist certification (TBMM-CES) teaches fitness, exercise and health professionals how to assess clients for common musculoskeletal imbalances and correct any issues they uncover through the use of targeted corrective exercises. Specialists trained in the BioMechanics Method have the ability to reduce pain, improve movement and enhance performance for clients of all ages and abilities. The BioMechanics Method specialists can be found in over 75 countries. Learn more at http://www.thebiomechanicsmethod.com.
Share article on social media or email:
link