A new pay model for doctors will be offered in February and one clinic said that an earlier incentive to attract new medical grads to family practice hasn't helped it find replacements for two doctors who have left in the past year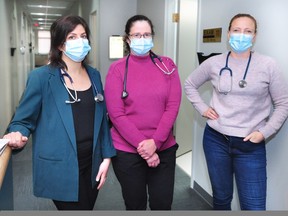 Article content
Even as the province rolls out a new pay model in an attempt to address the family doctor shortage, some clinics are still struggling to replace exiting physicians.
Article content
A Port Coquitlam medical clinic recently gave 2,000 patients the bad news they are without a family doctor after talks to bring in two replacement doctors fell through, apparently because of their concerns about heavy caseloads.
Article content
"If your physician is no longer working at Wilson Centre Family Practice, then you are no longer a patient at the clinic," said a letter sent by the clinic's 15 doctors to some patients.
The letter said two doctors the clinic had interviewed "balked at the amount of work required to provide ongoing care for an established group of patients." The new doctors "simply do not want to do this work."
This week, the province announced that starting in February it would change the way doctors are paid in an attempt to attract more doctors to family practice in B.C., where almost a million people don't have a family physician. The new system offers doctors increased remuneration and a promise to spend more time with patients.
Article content
This was in addition to incentives that Health Minister Adrian Dix offered to 174 family practice residency graduates in June, guaranteeing them a yearly salary of $295,000 for each of two years, pay that is not based on the number of patients they see. The offer also included medical school debt forgiveness and other financial incentives.
Dr. Samantha Hage-Moussa, a family doctor at the Wilson Centre Family Practice, said this week she hadn't had time to look closely at the details of the new pay model, but was encouraged. "It looks like it's a step in the right direction and hopefully will address some of the issues we're facing."
"(But) we just hope the public understands the recruitment of new family physicians will take years to take effect, and the strain on the family medicine system will continue to be very high in that time."
Article content
Prior to this week's announcement, Hage-Moussa and her colleagues called the doctor shortage in B.C. a "crisis" and warned remaining doctors at their clinic are "burning out" after they were unable to replace two of four doctors who recently left the clinic, which normally serves 17,000 patients.
Two doctors interviewed to replace the departing ones said they would see no more than 10 to 15 patients a day, instead of the 24 patients a day other doctors see, Hage-Moussa said.
"We need doctors to take on full panels of (1,200) patients," she said. "Essentially, at the end of the day, they didn't want to do the work. There are no incentives for them to take on a full panel."
"(The incentives are) not doing what (Dix) meant for it to do," she added.
Article content
Patients now wait on average two weeks to see a doctor, and the clinic needs all doctors to see the maximum number of patients.
"If you're waiting a month to see a doctor, that's not good care," she said.
She also said the difference in pay for doctors who now work on a per-patient fee for service model and the salaried doctors "is not equitable and there is divisiveness because of money."
"It's created a bit of a divide," she said, especially since doctors who see 24 or more patients a day would end up increasing their workload if the new hires wouldn't see the same number of patients.
She said if new doctors are concerned about being able to provide the same level of care as an experienced doctor while in their first two years of practice, the clinic's other doctors can guide them.
Article content
In addition to the two doctors who have already left, three more doctors have announced they are leaving the clinic next year.
"We didn't have a problem (finding replacements) until recently, this last year essentially," said Hage-Moussa. "And the same thing is definitely happening in other local clinics."
Heather Barr, a patient at the clinic, is among those whose doctor is planning to retire in the spring.
"They said I couldn't change doctors" because all had a full roster of patients, she said. She is concerned about losing the continuity of care as she enters her senior years.
"If you don't have a doctor, who is kind of like the conductor or the orchestra leader for your care, how are you going to get referred to a specialist?" she said.
Article content
Clay Suddaby, the health ministry's communications director, said in an email this week the new payment model is "another step the province is taking to retain existing family doctors, and attract new ones." 
He added that 68 doctors have signed contracts to enter family practice through the new-to-practice incentive and another 87 are in discussions or about to sign.
Dr. Bethany Ricker, a resident at a Nanaimo clinic who graduates in June 2023, said in an earlier interview that she and other resident doctors discussing the new-to-practice contracts find them attractive because of the guaranteed salary.
"It would be hard for a doctor just starting out to be efficient enough" to see enough patients to be able to bill at the top levels under fee for service, she said.
Article content
Entering into a long-term family practice with plans to live in a community right after graduation is a big step, she said.
Graduates have the opportunity to provide temporary relief for days, weeks or months in clinics across B.C. before deciding where to put down roots while gaining experience in family practice, she said.
---
More news, fewer ads: Our in-depth journalism is possible thanks to the support of our subscribers. For just $3.50 per week, you can get unlimited, ad-lite access to The Vancouver Sun, The Province, National Post and 13 other Canadian news sites. Support us by subscribing today: The Vancouver Sun | The Province.

B.C.'s new payment model for family doctors could lure out-of-province physicians

B.C. makes huge boost in compensation for family doctors
link