On Monroe street in downtown Toledo there's a billboard for the Toledo Museum of Art that reads "Art brings Toledo together." That's where Katie Shelley, manager of access initiatives, comes in.
Shelley's job is to ensure the Museum is accessible to all visitors, including those who are blind or on the autism spectrum. Shelley, a wheelchair and service dog user, was hired by the Museum in July, 2021. Her position was created via a partnership between TMA and the Ability Center of Greater Toledo, where Shelley previously worked as a disability rights advocate.
"The Toledo Museum of Art recognized the benefits of having someone in house who could really think about accessibility more holistically," said Shelley. "They had consulted with the Ability Center previously on making one of their exhibitions more physically accessible to those who use mobility devices. But they knew they didn't want to continue consulting with outside entities when they could have someone in house really thinking through how to make the museum more accessible and inclusive on a day-to-day basis."
During Shelley's first year at TMA, she conducted a physical audit of the museum's buildings to see how the museum could be completely physically accessible. But On Monroe Street in Downtown Toledo, there's a billboard for the Toledo Museum of Art that reads "Art brings Toledo together." That's where Katie Shelley, manager of access initia-
tives, comes in.
"We're thinking about access holistically and thinking through what does
being an accessible institution mean and how can we make sure everyone is included."
she has gone beyond making sure visitors with wheelchairs can enjoy the museum. "We are thinking about how those who are blind or low vision can still come to the art museum and interact with our collection and how we can create interpretive elements like tactile versions of images or having things like our touch tours or audio tours, and also thinking about sensory access for those on the autism spectrum," said Shelley.
The Ability Center of Greater Toledo pays for half of Shelley's salary, while the other half is funded by TMA supporters Joseph, Judith, and Susan Conda. In March, the reinstallation of the American galleries will open to the public, featuring many of Shelley's accessibility initiatives, including tactile versions of the museum's collection. "We're thinking about access holistically and thinking through what does being an accessible institution mean and how can we make sure everyone is included."
-David Bernard
---
Toledo native Erika White just changed her major. She's now studying health and wellness management and will earn her Bachelor of Science degree from the University of Wisconsin in 2024. This new major is more in line with what she learned about herself during her recent candidacy for the Ohio House of Representatives District 40. "I'm an absolute advocate for preventive medicine," she said, "and I'm really focused on serving people and making their lives better. I want to help with healthcare access, wherever that takes me."
"I believe in the working people and small business owners in this region, and I'm going to continue to fight for them."
White has been a community advocate for many years. A communications specialist with AT&T, she is President of the Communications Workers of America, Local 4319, and a regional officer of its National Executive Board. She earned the 2022 Labor Champion of the Year Award from Lucas County Young Democrats in December.
She has also been involved with the Healthy Lucas County Executive Com- mittee, is the Health Chair of the Toledo Chapter NAACP and has held management spots with the Toledo Chapter of the Coalition of Trade Unionists and Community Action and Response Against Toxics.
She also owns her own fitness business, Fitzone. White's campaign focused on health-care, education, community safety and business growth. "I believe in the working people and small business owners in this region, and I'm going to continue to fight for them." She also plans to do a lot of asking, because asking people what they want to see in their community helps her develop plans that will actually help people.
"We have to ask people what they want," especially in the area of health equality, she said. "What do you need, can it be accomplished, and how do we get it done?
When you get people excited about their own rights, you can create a movement.
"What I love about Toledo is that we highlight the really great things here, and work on the things we need to change," she said. While the city can celebrate some significant victories (the lead abatement program and medical debt relief through the RIP Medical Debt nonprofit group), there is great concern about crime in our neighborhoods, particularly gun violence. "Businesses downtown and in our suburbs are thriving and growing, but our neighborhoods are going through hard times," she said. "I'm excited to be able to continue to fight for our city and its communities," she said. "I'll continue wherever politics takes me, but I'll definitely be giving back and serving the community. My boots (an element of her recent campaign) are still made for working, and big things are coming!"
-Julie Pompa
---
Born and raised in Toledo, and a proud alumni of Jesup W. Scott High School, Elgin's passion for government work started at a young age and continued through his collegiate studies where he earned a Bachelor of Arts and a Master of Arts degree in political science. "Government affects every aspect of our lives; from driving a car to talking on the phone, so helping people understand that and putting faith back in those who lost faith in the government is my mission." Prior to his election to Ohio House District 44 as a State Representative,
Rogers spent nearly 20 years as an involved and connected Toledoan. Rep.
Rogers has spent time volunteering to improve the quality of life for Toledo's youth to his role teaching college social science classes. He's also served as the Director of Education and Outreach and Director of
Weights and Measures for the Lucas County Auditor's office.
Rep. Rogers lives his life by several values: self-awareness, critical thinking, integrity, and doing the best to improve yourself and others around you.
"I don't look at myself as better than anyone else but I understand the skills you need to navigate the challenges, along with my experiences in government and higher education to understand complex issues. What makes you an expert is not knowing the answer to everything but knowing where to find the answer."
Spending most of his time in Columbus, Rogers meets with constituents, organizations to continue to gain awareness of the common voter and the importance of voting and how it affects each person's life. "The words of wisdom are only open to the ears of understanding it's all about getting people reconnected and reengaged, no matter their age."
What makes you an expert is not knowing the answer to everything but knowing where to find the answer."
Rep. Rogers likes refers to himself as Paul Revere, citing his ability and passion to let the people in the community know what's coming. "It's part of my job as a community servant to let the folks know that there are some things going on that they should be aware of. It's my job to help them understand the resources available to them so they can make a confident decision." Rep. Rogers will finish the remainder of former Rep. Hicks-Hudson's term before starting his own term.
-Andrew Kersten
---
Looking for ways to own more of the supply chain for their Balance Grille
restaurants, PK and CJ found a unique building downtown to house an aquaponic farm and a new restaurant location. The farm allows them to have more control over the quality of crops and speed of their growth. They were also able to capitalize on the traffic brought downtown by ProMedica's move to the nearby Steam Plant.
The 8,000 sq. ft. Balance Farms aquaponic farm had a federal certification inspection in late 2021. And in January 2022, their downtown farm became one of the first nationally to have a Gap 3.0+ Harmonized Certification by the US Department of Agriculture, in conjunction with the Food and Drug Administration. This certification focuses on best agricultural practices to minimize risks of microbial food safety hazards.
In addition to providing fresh produce for their restaurants, Balance Farms supplies more than 30 restaurants in Toledo, over a dozen in Detroit, Churchill's Grocery Stores in the Toledo area and Sysco food distributors in Detroit. "The farm has done very well this year," PK said. Pandemic shutdowns over the last 3 years have dramatically impacted the restaurant industry. Many didn't survive it, and most have changed significantly as a result.
While Toledo's Balance Grille, established in 2010, wasn't immune to the effects of the pandemic, they took advantage of the time to improve their operations and prepare for regional and national growth. "We had been hearing about it (the pandemic) since November 2019, and watched what was happening overseas," explained Prakash Karamchandani (PK), Balance CEO. "We had a three-stage plan and closed our dining rooms before the national shutdown." They were able to mobilize quickly and set up curbside pickup before many other restaurants. "It feels like so long ago!" he said.
"We were in the store constantly, questioning every process. It changed us top to bottom, and we're more efficient now."
The biggest customer-facing change they made (now permanent) was to convert all ordering to kiosks. "Customers were able to see the entire menu, and they had more options for ordering," PK said.
Balance's response to the pandemic, including its "ahead-of-the-curve tech integration and success," earned them a place on the 2022 40/40 List, a report on 40 exciting fast-casual brands with fewer than 40 locations, from QSR Magazine.
They were also named among the most influential restauant CEOs of 2022 by the presti- gious Nation's Restaurant News. It's been a blessing to work in a community that really supports you, and we really appreciate everyone." PK and CJ are planning for a solid and stable 2023, along with growth in the number of locations.
Their first outside of the four Midwest locations is built on Toledo-area connections. Toledo native Nick Constanzo, a Balance fan, is opening a location in his Denver- area food hall named Freedom Street Social (after East Toledo's Freedom Street).  "It's been a blessing to work in a community that really supports you, and we really appreciate everyone,"  said Hochan Jang (CJ), Balance's Executive Chef. "It's been a great journey so far."
-Julie Pompa
---
She's a mother of three, she's involved with several organizations and she's an entrepreneur, blazing trails wherever she goes. Sheena Barnes, a long-time advocate for social justice and equality, understands the importance of making sure the youth in our communities have the best life possible. "I advocate for our youth in Toledo Public Schools and across Ohio to be seen, loved and heard. All people deserve that, especially our youth." Sheena currently serves as the vice president for TPS where she advocates for funding, equity and public education, among others.
"I'm not perfect. I'm a human just like everybody else…"
She also serves as the Director of Inclusion and Access for the Toledo- Lucas County Homelessness Board where she ensures there is equity in the organization's processes when supporting those who are experienc- ing homelessness. Most recently, and perhaps most notably, she started her own business, Just Acts, LLC, where she helps ensure that non-profit agencies and businesses foster a positive work environment for their staff while focusing on best practices with the LGBTQ+ community.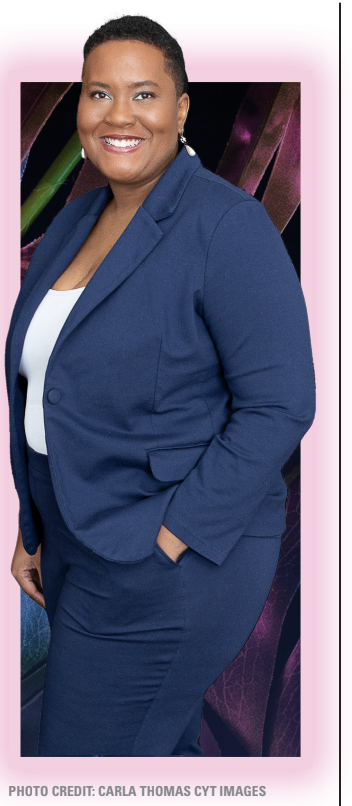 Interestingly enough, there isn't some major backstory for Sheena's passion for community advocacy. For her, she says it just kind of happened. "One day you want to do something and you want to make a change. I didn't know how to help when I moved here 14 years ago so I started volunteering." Through her volunteering efforts, Sheens says her social circle expanded and she found out who she really was.
Her volunteering efforts began as a sexual assault outreach worker for the YWCA and quickly expanded to other efforts that included autism awareness, Black Lives Matter and reproductive rights, among others. "I continued to find people that I could help uplift." Until early last year, she served as Executive Director of Equality Toledo, representing the interests of the LGBTQ+ community in Toledo.
Sheena recently testified at a hearing in Columbus for transgender youths' civil rights. That hearing dealt with the expansion of a federal law that prohibits discrimination based on sex in any education program or activity receiving money from the federal government. On any day, her children keep her motivated. Her oldest is studying prelaw at Youngstown State University, and her middle and youngest attend TPS schools. "At the end of the day I want my children to grow up in an environment that supports their well-being and uplifts them and I keep that in mind in my advocating efforts."
"I'm not perfect. I'm a human just like everybody else, and I'm trying to make a difference."
-Andrew Kersten
---
"Stigma?" Eric Chase asked to begin his 2017 TEDxToledo talk. "With mental health? Not for me. Hopelessness and helplessness? Yes, that is me." He went on to tell his audience that 1 in 5 American adults experience a men- tal illness and 1 in 25 live with severe mental illnesses. Chase himself was diagnosed with bipolar 2, depression, and anxiety in 2005. Since then, he has been unapologetically open about his mental health struggles with the hopes that talking frankly about formally taboo topics will help others drop the stigma.
"The more we talk about it, the more we squash the stigma. The less stigma, the more people who will seek help," Chase said, a perfect summary for the work he does in the Toledo area.
In the 10 years Chase has spent in Toledo, he has hosted a radio program called The Morning Rush, recorded hundreds of Podcast episodes, and worked with organizations such as the National Alliance on Mental Illness (NAMI) and The Ability Center (68 Words Podcast) to advocate for mental health awareness. He has two Beagle mixes, Diddy and N'dre, vital com- panions throughout his mental health journey, and he owns a lot of Transform- ers. Like, really. A LOT.
When The Morning Rush ended, Chase received dozens of messages from listeners about how his willing- ness to share his struggles helped them find the help they needed or gave them a better understanding of what loved ones and friends were going through. Even though he is a self-proclaimed "couch loving, hard- core streaming introvert," talking with audiences has become one of Chase's greatest joys. He loves watching body languages and reactions as he shares his experiences and the open dialogue he has with people after his talks.
The more we talk about [mental health], the more we squash the stigma."
"There are wins and losses," he said. "I share my new experiences and weapons with others who are not as far along in their battle as I am. You can get around with a broken leg. You're not going anywhere when your mind is broken."
Chase recognizes the impact his dogs have had on his quality of life. He believes animal therapy is an important piece of mental health recovery, but a piece does not complete a puzzle. At the end of the day, he encourages peo- ple suffering with mental disorders to find a psychiatrist who is right for them and to develop a treatment plan that works. It will not happen overnight, though. He spent a long time finding answers and his bipolar 2 diagnosis and subsequent treatment has helped him immensely. -Curtis Deeter
---
Dr. Hoy-Gerlach views her fifteen years at the University of Toledo as transformative, not only because of teaching but also through the social work programs she has helped to foster. Before academia, she worked in community mental health in Cleveland, mainly focused on crisis/ risk management. A question she often found herself asking was, "What stopped you from going through with it (suicide)?" A common answer was, "I can't leave my animals. Who would take care of them?" She already understood the importance of human-animal relationships and, as a mental health professional, she found a void of academic knowledge on the subject. In Janet's line of work, she often hears jokes like, "Here's my emotional support pineapple," but she emphasizes that Emotional Support Animals (ESAs) are more than just therapy animals. Despite the jokes, and people who do not take ESAs seriously, the positive results of their use are undeniable.
"Dr. Janet Hoy-Gerlach appreciates the vital importance of human-animal bonds."
ESAs help with emotional development in young adults during difficult transitional periods, offer comfort and care in nursing homes and hospices, and provide much-need post-trauma physical affection in schools that teachers and administrators are un- able to provide. After Sandy Hook, for example, crisis response dogs were brought in, and students who had all but shut down after the horrific shooting reacted so well to the dogs that their use was added to Connecticut's state charter.
Dr. Hoy-Gerlach was pivotal in the creation of Hope and Recovery Pets (HARP), a collaboration be- tween ProMedica, Harbor Behavioral Health, the University of Toledo and the Toledo Area Humane Society that focuses on the proven benefits of human-animal interactions. The organization connects adults suffering from severe and persistent depression and anxiety with pets from the Humane Society to improve the lives of the patients and the pets.
She is proud to admit that HARP is one of the few human-centric recipients of Dr. Janet Hoy-Gerlach Who She Is: clinical social worker, author, researcher, educator, and consultant seeking to improve the well-being of people and (non-human) animals through recognition and support of the human-animal bond Why You Should Know Her: Dr. Janet Hoy-Gerlach's research has been at the forefront of a greater conversation about how the human-animal bond is an integral part of a more integrated healthcare system right here in Northwest Ohio with the Kenneth A. Scott Charitable Trust, a grant normally focused on preventing-animal cruelty and promoting the humane treatment of animals. But her Toledo-area impact reaches far beyond a single initiative.
She is a member of the "Better Together" coalition, working with the Toledo Lucas County Homeless Board on issues related to housing-unstable individuals with pets, and she pro- vides technical support to nonprofits such as the Ability Center, with their Assistance Dogs program, and the Zepf Center, who are beginning to utilize human-animal interactions as part of their routine clinical practices.
She also helped develop and foster University of Toledo students with internships and the creation of UT's Rocket Service Dogs. Through her personal experience and professional research, Dr. Janet Hoy-Gerlach appreciates the vital importance of human-animal bonds. Her work here in Northwest Ohio will leave a lasting impact on our community's health and well-being, including the furry ones.
-Curtis Deeter
---
"Everything with passion is better. Big ideas have a better chance if there's passion behind it," says Cleves Delp, Chairman and CEO of TDC Companies. Cleves' enthusiasm is contagious as he describes his business and philanthropic ventures. His company advises family-run businesses regionally and nationally in the area of wealth management and preservation.
But it's more than just money management. "We're helping families be families – closer, smarter and wiser. And we're helping them connect their wealth and purpose. What makes us happy is understanding our purpose." In this role, says Delp, "I've had the privilege of learning from those who have lived the American dream." Throughout his business, he says, "Our corporate soul is our people. A soul is a deeper thing than your culture, your most important asset. I am so blessed with my colleagues, with the folks that surround me. They blow my mind every day." When talking about the role of philanthropy in his life, Delp says "The most important effort in philanthropy is capitalism. People taking a risk to employ others. To give folks a purpose and opportunity." "Philanthropy is taught intergenerationally. It's not something you're innately built with.
It's not in our natural DNA to not be self-interested. Philanthropy is the opposite of self-interest. Taught from parent to child. Early in my life my father was a good teacher of many things, and giving back was one of them," said Delp. Delp has contributed to the Ebeid Promise in Toledo, which will change 15,000 lives through education and opportunity.
He also has forthcoming philanthropic projects with the YMCA and Hillsdale College, his alma mater. As a Central Catholic alumni, he is especially proud of his work with the Mercy Foundation in the Cherry Street Corridor. His family – parents and children – went to Central Catholic, and his daughter is now its principal. Seeing opportunity for college athletes, he founded Friends of Rocky, a name image likeness collective for University of Toledo athletes that facilitates ways for them to subsidize their likeness while they're playing college sports.
He is working with Justin Papadakis, COO and Chief Real Estate Officer of United Soccer League to bring a professional soccer team to downtown Toledo. His work with Bitwise Industries helps provide daycare for folks in the enterprise zone that surrounds the Jefferson Center. One of the projects that has grown out of his business is a financial literacy pro- gram called RightTrak. Clients requested a method of teaching financial literacy basics to their children and grandchildren.
RightTrak is a fully digital, gamified educational process that covers budgeting, taxes and investments. Additionally, RightTrak will be used for students in Ohio, as the state now requires financial literacy training for high school students.
-Kelly McGilvery
---
link